Once Upon A Time…
...there was a headstrong fairy princess and a frog with an axe.
But that's another story.
My name is Dawn Metcalf and I write dark, quirky and sometimes humorous speculative fiction. My debut novel, LUMINOUS, is a YA paranormal fantasy about a Latina-American superheroine who can change her skin. The Twixt series, including INDELIBLE, INVISIBLE, INSIDIOUS and INVINCIBLE is just your average fairy tale about a guy and a girl, a deadly mistake, a number of sharp, pointy objects and a plot to end the Age of Mankind.
Want to know more? Go here.
Subscribe / Follow
Facebook
GoodReads
The Work-In-Progress…In GIFs!
Imagine something like this:
plus this:
and this: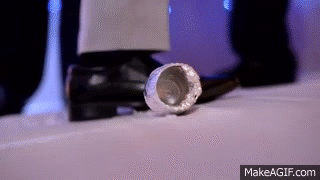 Done! Nickname: #MagicallyJewishVeronicaMars
Inspiration of the Week: Boston ComicCon
Boston ComicCon featured the cast of Rocky Horror &ca goodly chunk of Buffy and Dr. Who fandoms amidst the backdrop of a thousands of happy cosplayers, fans, worshippers, 'shippers and all-around creative geeks. I managed to snap a bunch of shots (blog post TBA) while being a Jagermonster from Phil & Kaja Foglio's Girl Genius. Pocket Mimmoth--pictured above--had a great time!
Big props to the creator of Farlaine the Goblin (who shall remain nameless for mysterious reasons) who, upon noticing Maestro having a rough time, generously gifted him a copy of the first book, which is both awesome and adorable. It's the beginning of a series so, yeah, I'm telling everyone I know!