Once Upon A Time…
…there was a headstrong fairy princess and a frog with an axe.
But that's another story.
My name is Dawn Metcalf and I write dark, quirky and sometimes humorous speculative fiction. My debut novel, LUMINOUS, is a YA paranormal fantasy about a Latina-American superheroine who can change her skin and my current novel, INDELIBLE: Book One of the Twixt, is just your average fairy tale about a guy and a girl, a deadly mistake, a number of sharp, pointy objects and a plot to end the Age of Man. The second book in the Twixt Series, INVISIBLE: Book Two of the Twixt, is due out from Harlequin Teen in September, 2014.
Want to know more? Go here.
Subscribe / Follow
Facebook
GoodReads
INVISIBLE on the Shelves, April 1st!!!
Look! The first sneak peek at my new book, INVISIBLE!
Isn't it pretty?
;-)
Inspiration of the Week: Haute Couture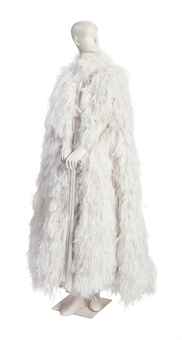 From Elizabeth Taylor's Haute Couture collection labeled "Chris Levin, 1970s."
…but I can't tell you why. (Yet!)