Leaving Asheville, we're off to Nashville in the heart of Tennessee to visit Parnassus Books! I've passed through several weather fronts on my INVISIBLE journey and nothing's quite so amazing as being able to drive in the car. I do my best thinking while driving or daydreaming (shouldn't do both!) and have my handy voice recorder & plenty of paper to scribble on as I go. It's amazing what the mind will come up with once it's set free. Appropriate, then, to be off the famed "brainchild" bookstore!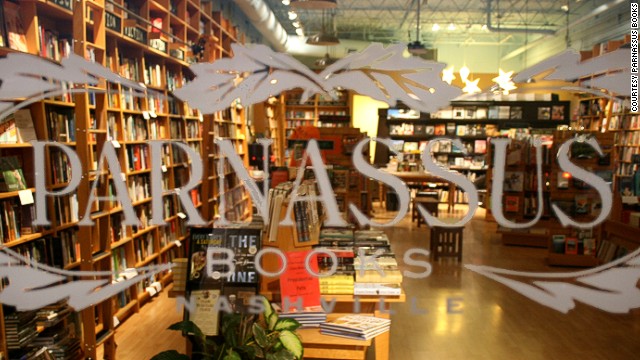 Author Ann Patchett and Karen Hayes were the hearts and minds behind the indie bookstore revival back when Nashville woke one morning to find that all of their beloved bookstores--chains and local shops--had gone. Grit and determination and a refusal to let the boogeymen doomsayers get them down, Parnassus Books is still strong and a favorite for locals and traveling authors alike! A quote from the website's "The Bookstore Strikes Back" reminds me of what Ursula K. LeGuin mentioned during her now-famous National Book Awards speech:
"Amazon doesn't get to make all the decisions; the people can make them, by choosing how and where they spend their money. If what a bookstore offers matters to you, then shop at a bookstore. If you feel that the experience of reading a book is valuable, then read a book. This is how we change the world: We grab hold of it. We change ourselves."
Parnassus isn't just a bookstore, it's a place that loves books. Whether checking out its blog or perusing the shelves, you can chat with knowledgeable bibliophiles who long to put just the right book in your hands including the latest bestsellers to signed stock and first editions! And, being an author myself, I feel right at home in Ann & Karen's bit of heaven.
Visit in person or online and nab your copy of INVISIBLE and remember that the first 7 people to order get their signed sets of swag!
You can order your copy at:
Parnassuss Books
Hillsboro Plaza Shopping Center
3900 Hillsboro Pike
Nashville, TN 37215
(615) 953-2243www.parnassusbooks.net